Christmas Pudding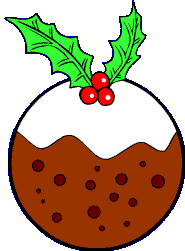 Yay! I really enjoy Christmas pudding. I only get to eat it once a year and make sure I have at least one. However, this year (2017) since it's a sea of change for me, I decided to make things extra special and make one. This is my recipe, with accompanying photos so you too can follow along… Enjoy!
Recipe, Equipment, and Instructions
Ideally, the pudding should be made at least six months in advance and stored in the airing cupboard. If time permits, it was not uncommon too long ago for the pudding to be made a year in advance, such that you were eating last year's pudding the following year. If you can, I recommend you start as early as possible.
For this recipe, you'll need a two litre pudding basin (see image below) as well as dried fruits. These can vary to your liking – I'm adding extra glacé cherries since that's my preference; but as long as the weights tally, you can mix and match anything, including adding chopped nuts if you so wish.
Ingredients
5oz Sultanas
5oz Raisins (or mixed dried fruit)
5oz Currants
5oz Mixed peel
5oz Dates
1 Orange zest
1 Lemon zest
2 Tablespoons of black treacle
1/3 Pint of dark stout/porter
A good few sloshes of brandy or sherry
3oz Soft brown sugar
3oz Breadcrumbs
3oz Suet
3oz Plain flour
1tsp Cinnamon
1tsp Nutmeg
1tsp Mixed spice
1 Grated apple (Granny Smith, for example)
2 Eggs
Method
Add all the dried fruit (including the mixed peel) into a large mixing bowl, having adjusted any fruit to your liking:

(You can see here I'm using green, yellow, and red glacé cherries in lieu of dates.)

Add the treacle, stout and brandy/sherry to the fruit and stir well.

Leave this covered and allow to soak for at least 24 hours, and not a minute less.

You must now wait until proceeding to the next step.

Place all the dry ingredients into another mixing bowl (flour, suet, breadcrumbs, spices) and mix well.

Now mix in the soaked fruit, a spoonful at a time, into the dry ingredients. Add the eggs and the grated apple.

Leaving that to settle, take the pudding basin and grease it with butter or margarine.

Add the mixture to the basin slowly, making sure the pudding is level at the top, but not too proud to the surface as the pudding will rise.

Next, prepare the pudding for steaming. I used the following youtube video for prepping the pud. Note that it's important to put a grease-proof lid on top of the pudding first of all before covering with foil.

If you wish to steam him on a hob in the conventional way, he'll take about 6 hours. I do mine in a pressure cooker which takes about 1.5 hours.

After steaming, the pud will look like this, with the lid proud:

Allow the pudding to cool, having removed the lid. When cool, prepare the pudding again as in step 7., although don't steam. Instead, store in the airing cupboard.

On Christmas Day (or whenever he's due to be eaten), steam him for a further two hours, or 30-60 minutes in the pressure cooker.
Results
We decided (Christmas, 2017) to have the pudding early on Christmas Eve instead so everyone could enjoy it. Here's some photos:
After steaming and out of the pudding basin

Having sliced the pudding open

The proof's in the pudding!